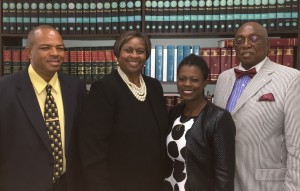 During the annual VI Legislature Committee on Finance hearing, LSVI requested an additional $291,000 for its 2016 fiscal year budget. LSVI requested this additional monies to assist us in continuing to provide equal access to justice and high-quality, civil legal assistance free of cost to our client population. LSVI believes that this increase in funding is needed, reasonable, and justified. If awarded this additional funds, LSVI plans to use these funds to hire two new attorneys, to fund the necessary salary increases, and to hire a development person to initiate and coordinate fundraising activities.
Attending the meeting to discuss this increase was LSVI's Executive Director, Richard Austin, Esq., LSVI's Board of Trustees' President, Trudy Fenster, Esq., LSVI's St. Croix Office Managing Attorney and Litigation Director, Shelby King Gaddy, Esq., and LSVI's Director of Finance and Administration, Kenneth Guye. These four persons presented to the Senate on behalf of LSVI to seek continued funding and the additional increase.
In 2014 alone, LSVI opened 1, 274 cases throughout the territory; 691 on St. Croix, and 583 on St. Thomas. In 2014, LSVI closed 1, 275 cases throughout the territory; 741 on St. Croix and 534 on St. Thomas-St. John. With this high volume of cases coming into LSVI and with its limited resources, LSVI attorneys handle 60 to 70 cases on average at any given time, in comparison to the 40 to 50 that they are allocated to be handling at a time. The Senators commended LSVI on its impressive ability to handle the amount of cases that they are handling. However, the Senators were extremely concerned about the high number of individuals in the community who meet the eligibility guidelines, but cannot receive LSVI's services. They were equally concerned about those individuals who are slightly over the eligibility guidelines and are also unable to receive LSVI's services. In response to those concern, LSVI's Executive Director stated that "There are unmet needs that we have now that we are not able to serve and by increasing the eligibility level, that could possibly increase the pool of the unmet needs."
LSVI is committed to serving the Community and endeavor to do more. The Board of Trustees through the new 5 year Strategic Plan will revisit the Program Priorities in an effort to reach more and serve more.