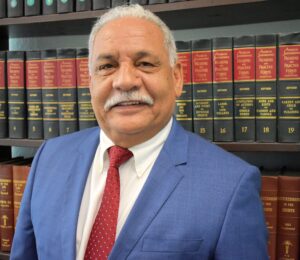 Miguel A. Camacho was born on St. Croix but raised in Brooklyn, New York. Upon graduating from Brooklyn Technical School, he attended Hofstra University, receiving his B.A. in Business Administration. Returning home to St. Croix in 1975, Miguel began his career as an Immigration Officer with the U.S. Immigration and Naturalization Service and remained with the agency for nine years. In 1984, he began law school at the University of Oklahoma – College of Law. After receiving his Juris Doctor in 1987, he returned home to St.Croix with his family. He began his law career, first serving as a Judicial Law Clerk for the Honorable George A. Eltman and climbing his way thru the legal ranks in the territory, holding the following positions:
Assistant Attorney General,  Virgin Islands Department of Justice
Assistant Legal Counsel, 18th Legislature of the Virgin Islands
Legal Counsel, Virgin Islands Department of Planning and Natural Resources
Elected Senator, 22nd Legislature of the Virgin Islands 
Chairman, Committee on Rules and the Judiciary, 22nd Legislature
Public Defender, Office of the Territorial Public Defender
In 2009 he was appointed to serve a 4-year term in the Magistrates Division of the Superior Court of the Virgin Islands by then Presiding Judge Darryl D. Donohue. He was re-appointed to a second 4-year term by the Honorable Presiding Judge Michael C. Dunston, 2013. In 2017, he was again re-appointed by Presiding Judge Dunston to serve a third term as Magistrate Judge in the District of St. Croix until his term ended in 2021.
He joined the LSVI team in the Summer of 2021 as the Litigation Director and is happy to use his legal expertise to provide access to justice to the Virgin Islands community.