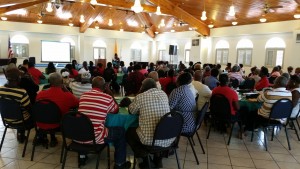 In June of 2015, LSVI held a Conference on Aging in St. Croix and St. Thomas for the elderly in the Community. This Conference was one of our many outreach programs, but was directed primarily toward educating the elderly on various legal issues. At both conferences, there were numerous presentations that were held to include:
A presentation on Mental Health involving Alzheimer's and Dementia by the Disability Rights Center of the Virgin Islands,
A presentation on Elder Abuse by the Women's Coalition of St. Croix, Family Resource Center on St. Thomas and the Virgin Islands Human Services: Adult Protective Services,
A presentation on the State of Senior Citizen Affairs by the Virgin Islands Human Services,
A presentation on Wills, Deeds and Advanced Directives: Estate Planning by LSVI,
A presentation on Seniors Medicare Patrol by the Virgin Islands Human Services, and
A presentation on Consumer Protection For Seniors: Identity Theft & Scams by the Virgin Islands Division of Licensing and Consumer Affairs & AARP.
We were able to provide breakfast and lunch for all participants and at the end of the conference every attendee left with a goodie bag that was filled with trinkets donated by various Virgin Islands organizations. The attendees had a great time learning about these different legal aspects that may arise as they age. At the end of the conference we received many thanks for holding an event to inform the elderly of their rights and legalities that they need to be aware of. This program was held in conjunction with the Department of Human Services. We look forward to continuing to provide legal education and outreach to the members of this beautiful community!