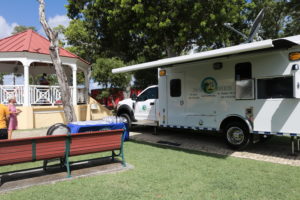 With a national grant from the Legal Services Corporation in Washington, D.C., the Legal Services of the Virgin Islands Inc. now can visit remote areas to help people without transportation deal with their legal needs, even when the internet and power grid are down.
One of two units was on display on Tuesday at Emancipation Park in Frederiksted. The other van will be used in the St. Thomas/St. John District. Inside the vans, three desks and a waiting area allow pro bono (volunteer) attorneys to help more than one client at a time. There is a video conference system and printers for paperwork and legal documents. A wheelchair lift makes the van compliant with the Americans with Disability Act, and a satellite dish and generator create a hot spot wherever it is parked. Outside the vehicle, an attached awning provides shade, and a smart television is available for presentations.
To continue reading click HERE.