Richard Austin
Executive Director/CEO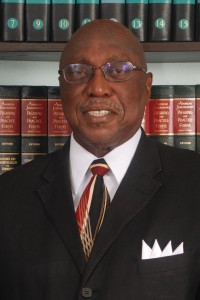 Richard Austin is an attorney and the Executive Director/CEO of Legal Services of the Virgin Islands, Inc., where he has been employed in various management positions for the past 30 years.  He has been the CEO for the past 17 years.
Austin was born and raised in southwestern Ohio and received his early education in the Dayton Public School System.  He received his higher education at Central State University, Wilberforce, Ohio (B.S. in Education, 1965), Howard University, School of Law (J.D., 1968), Southwestern New Hampshire University (formerly New Hampshire College), Graduate School of Business (M.S., 1991).  He also attended The Ohio State University, School of Law and the United Theological Seminary.
Prior to moving to St. Croix in 1985, Austin was in private law practice in Dayton, Ohio for 16 years.  He started the law firm, Austin, Jones, Littlejohn & Owens, LLP, which was one of the premier law firms in the state of Ohio.  Attorney Austin was Special Counsel to the Ohio Attorney General; General Counsel to his alma mater, Central State University (where he served as the first Black attorney for a state university in the state of Ohio); Hearing Officer and Advisor to the Dayton, Ohio Civil Service Board.  In addition to his position at Legal Services, he has taught at the University of the Virgin Islands and served on the panel of Arbitrators of the Virgin Islands Public Employee's Board.  He is admitted to practice law in Ohio, the U.S. Virgin Islands and before the U.S. Third and Sixth Circuit Courts of Appeal and the United States Supreme Court.
Attorney Austin has always been active in community, civic and religious activities.  He served as president of the Dayton Branch, NAACP (being the youngest person elected to the position) and was selected the Dayton Junior Chamber of Commerce Man of the Year in 1973.  He is one of the founders of the St. Croix Community Foundation and the Men's Coalition.  He has also served on the Board of Directors of the Juan F. Luis Hospital Foundation; Virgin Islands Legal Assistance Foundation; and is a member of the Virgin Islands Judicial Council.  He has received many honors and awards, including a citation from President Bill Clinton for Outstanding Community Service.
Attorney Austin has contributed too many articles and publications and made presentations and lectures before national and local organizations on topics of cable television development, school desegregation, affordable housing, community economic development, civil rights and human liberties issues and domestic violence intervention.
Attorney Austin is married to Noelia B. Austin, and has two adult daughters, Stephanie and Alison; and one granddaughter, Sydney Maxine. Attorney Austin is an ordained minister in the African Methodist Episcopal (AME) Zion Church and has served as pastor of the Beulah AME Zion Church, in Estate Bethlehem, St. Croix, VI, for the past 15 years.  He considers his legal advocacy to the poor and other disadvantaged people and his pastoral duties to be his lifelong calling and ministry.  All to the glory of God.